As the housing boom continues in the greater Raleigh-Durham area, site prep contractors like Wellons Construction have all they can do to keep pace with demand.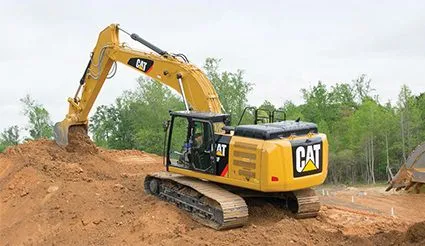 "Raleigh is one of the Southeast markets that a lot of builders entered and scaled up on during this recovery," says Rick Palacios Jr., director of research at John Burns Real Estate Consulting.
With many new residential developments under construction in Wake County, Wellons is relying on a large fleet of Cat® machines equipped with GPS grading technology to meet deadlines from local and national builders, who seemingly cannot build new housing fast enough in the current boom.
Established in 1982, Wellons made a significant transition coming out of the 2007-08 recession that positioned the company for growth, says Seth Thompson, vice president for the company based in Dunn, N.C.
"During the economic downturn, we had to get creative on how to better ourselves, so we adopted a lot of technology— including GPS grading and utilizing different software programs for bidding and tracking costs," Thompson says.
"This has helped transform us into who we are today, a company that utilizes cutting-edge technology to increase production and cut costs."
As a turnkey site prep contractor, Wellons performs land clearing, earthmoving, erosion and stormwater control, demolition, installs water and sanitary sewers, builds concrete pads for homes, and does curbstone and asphalt paving. With 100 employees, Wellons works in two markets—the Triangle region of Raleigh-Durham, as well as Fayetteville.
Currently, 90 percent of the company's work involves site preparation for residential subdivisions.
"We're thankful for our partnerships with certain developers and owners around the area," says Thompson, who took over running day-to-day operations in 2006. "We take pride in giving them a good looking project and turning it out sooner rather than later so they can start building houses."
With a fleet of about 100 machines, Wellons utilizes GPS grading on 15 workhorse earthmoving machines— dozers and excavators—to meet or exceed production deadlines for new housing developments.
"A lot of our guys, especially our foremen, have been with us for 15 to 20 years," Thompson says. "There's an old saying that you can't teach an old dog new tricks, and that was an obstacle that we had to face at the time because these older foremen didn't want anything to do with the GPS at first."
"But once we adopted it and installed it on multiple Cat dozers and our 330 and 336 excavators, now the guys can't live without it," he says. "If our GPS goes down they act like they can't grade without it."
Wellons' operators utilize GPS primarily for rough grading. The result is greatly increased production.
"With stakeless grading, you don't have to worry about surveyor errors, losing stakes, or waiting on re-staking," Thompson says. "We are literally able to hit a job and start the same day. There's no doubt that GPS represents a tremendous savings in cost and production. But saving time is the biggest factor for us with GPS. We're able to get in and out on projects a whole lot quicker than we
ever used to."
"When you can turn projects over for the owner in half the time, you know your productivity and efficiency are up." Thompson adds. "What used to take us two months to complete, now takes one. It has proven to be a very good move for us."
From developing an estimate to dropping curb on the job, Wellons strives for ever-greater accuracy. Using GPS systems, Thompson is able to be more precise on billing and forecasting schedules for his crews.
"Now that it takes a grading crew half the time to do a job, I know that we can take on more work and I can double my production," he says.
The next step for Wellons is to utilize drone technology to develop its own topography maps before and after jobs to more accurately gauge how much dirt the contractor is moving, Thompson adds.
Better fleet management
Another area where Wellons leverages technology is Cat Product Link™, which enables the contractor to constantly monitor the location, health and efficiency of its equipment. Using
the VisionLink® interface, Product Link gives the contractor the ability to:
Spot problems before they happen with data, inspections and fluid analysis
Receive expert recommendations on equipment maintenance and repair
Reduce machine owning and operating costs through preventive maintenance, fleet optimization and lifecycle planning
"All of our field guys have access to VisionLink," Thompson says. "They know where every piece of equipment is at all times. They're 100 percent able to know what's going on with that piece no matter where it's located. Even if they're in Fayetteville and they've got a problem with the machine in Raleigh, they can go to an iPad and pull it up, know exactly where it's at, when it's running, where the fuel levels are, and more."
"This helps by eliminating the need to make a two-hour trip from Fayetteville to Raleigh," Thompson continues. "They know what's going on with the machine, and if it's something that can wait until the following morning or requires immediate action."
When it comes to equipment maintenance, Product Link monitors machine hours, which is a critical aspect of Wellons' preventive maintenance program.
"We used to have to write our daily equipment reports," Thompson says. "Now that everything is on VisionLink, our guy in the shop pulls up data showing where every piece of equipment is at every day, and he can monitor exactly how many hours are on that machine. He can set up a notification at 100 hours, and start monitoring that piece depending on where it's at, what it's doing, how many hours it's running a day, and he can time that PM schedule."
Strong workforce
The strength of Wellons Construction is its workforce, as many of its associates have been with the company 20 years or more. This factors heavily in the company's emphasis on worksite safety. "Safety is an ultimate goal everyday," Thompson says. "We have a weekly meeting with our foremen, and that's typically our first topic to make sure everybody goes home safe every night. We've had very few injuries on the job, and that comes from having long-term employees, foremen that have been here for a long time. They are conscientious, aware of their surroundings—always knowing what's going on, where people need to be, where people don't need to be and just working safe."
But with construction in the Triangle booming, Wellons' biggest challenge is finding qualified employees.
To that end, local Cat dealer Gregory Poole has been instrumental in developing a two-year associate's degree program in heavy equipment operation at several area community colleges.
"By the end of their two years in the community college, they'll have more tools than just learning how to run a piece of equipment," Thompson says. "Our goal is to offer a scholarship to individuals to attend these community colleges and build them from an internship program from which we can develop our own people instead of trying to find people through advertising and word-of-mouth referrals.
"We can bring them in, provide them with a ladder to success and show them that the construction industry can be a positive career for these kids and give them a future," he says. "We can let them learn from the ground up just like I did."
Long-term relationship
Beyond finding and retaining good employees, the backbone of Wellons Construction is its Cat fleet. The company prefers to own its equipment over the long term, and has experienced higher uptime and productivity since changing its strategy of acquiring used equipment to buying new machines. The change in strategy has resulted in a 60 percent decrease in equipment maintenance and repair costs.
"Typically, a newer machine is running 98 percent of the time, and that's important to us," Thompson says. "Buying a piece of equipment is no different than buying a car—there comes a time when you have problems with it. Buying the equipment that has the least problems is what's important to us, and the strategy has paid off. We know we can count on our Cat machines for higher uptime, which equates to greater productivity."
For the last five years, Wellons has gone through Cat Financial for equipment acquisitions, a process that Thompson calls "seamless."
As a case in point, recently Wellons wanted to demo the 336F Hydraulic Excavator. Once the company determined that the larger size was more effective for the application, Thompson contacted his Gregory Poole representative, Paul Calton, who located a machine and determined the lead time, which is typically one to two weeks. Once Calton delivers a contract, Wellons' controller follows the necessary steps through Cat Financial, and the process is so efficient that typically the machine is up and running the next day.
Once the machine is delivered, a PSSR from Gregory Poole will meet with Wellons' mechanics and equipment operators to go over maintenance and operation of the new machine.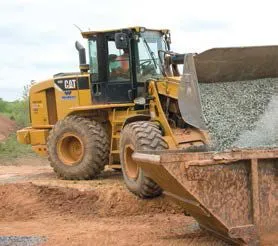 "They know exactly the ins and outs of the more technical new machines with Tier 4 technology," Thompson says. "With all the changes in technology on these machines, it's good to know what this button does that's different from the previous model.
"Now we have a 336F, and there's a lot of upgrades in those machines that our operators aren't used to," Thompson says. "So by bringing that machine to the shop and having that walk-through, letting them explain what the differences are with the machine and what things you need look for, is very helpful. And also having the equipment operator there learning the control system, means you have a minimal learning curve until the operators are very productive."
Thompson says the experience with Cat equipment starts with the purchase but essentially never ends.
"You always have that partnership, and that continuing support through Caterpillar and Gregory Poole from the minute you buy a piece of equipment until the time you sell it," he says. "It's a long-term relationship that has many benefits."
WELLONS CONSTRUCTION
Owner: Bobby Wellons
Vice President: Seth Thompson
Location: Dunn, N.C.
Established: 1982
Employees: 100-plus
Services: Land clearing, grubbing, demolition, grading and excavation, erosion control measures, stormwater and sanitary sewer installation
Cat Equipment: 257B 3 Skid Steer Loader; 259 Compact Track Loaders (2); Backhoe Loaders: 420, 426 (2); Wheel Loaders: 930 (4), IT 28 (4), 938K; Excavators: 312, 320 (4), 330 (8), 336 (3); Motor Graders: 12H (3), 12G (2); Dozers: D4 (2), D5 (7), D6 (3); Scrapers: 613 (2), 615 (3); Compactors: 815B, 433B (2), CP563]