Powering Progress Since 1951
Gregory Poole Equipment Company was founded by James Gregory Poole, Sr., and his uncle, William Lewis Gregory on April 1, 1951. With headquarters in Raleigh, North Carolina, Gregory Poole became the Cat construction equipment dealer for eastern North Carolina. Poole and his family obtained W.L. Gregory's shares in Gregory Poole Equipment Company and became the sole owners in 1961. Since that time the company has expanded its operations to  21 locations providing sales, rental, parts and service for construction, forestry, lift systems, marine power, energy & transportation equipment, trucks, buses and RVs in eastern North Carolina, as well as lift systems in eastern South Carolina and Virginia.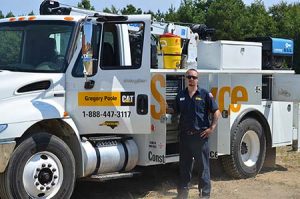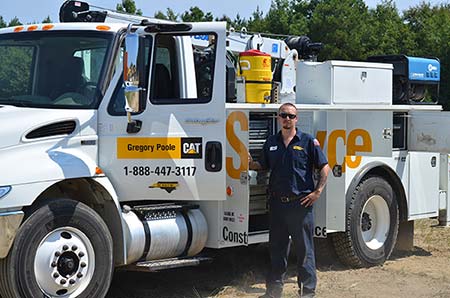 Your Partner for Long-term Success
To this day, Gregory Poole remains a family-owned business, one that is committed to the communities we serve and the businesses who trust us with their equipment needs. We are proud to offer long-term support for everything we sell, with a network of service centers throughout eastern NC and extensive mobile repair capabilities. Whether it's an emergency repair that gets you up and running again, or proactive, preventative maintenance, we have the expertise and the highly trained staff necessary to keep you productive and profitable well into the future.
We Care About the Environment
Gregory Poole is committed to reducing our environmental impact and continually improving our environmental performance as an integral and fundamental part of our business strategy and operating methods.
It is our priority to encourage our customers, suppliers and all business associates to do the same. Not only is this sound commercial sense for all; it is also a matter of delivering on our duty of care towards future generations.
Our policy:
Wholly support and comply with or exceed the requirements of current environmental legislation, rules, regulations and best business practices.
Minimize our waste and reuse or recycle as much of as possible.
Minimize energy and water usage in our buildings, vehicles and processes in order to conserve supplies, and minimize our consumption of natural resources.
Operate and maintain company vehicles (where appropriate) with due regard to environmental issues as far as reasonably practical and encourage the use of alternative fuel sources as appropriate.
Apply the principles of continuous improvement in respect of air, water, noise and light pollution from our premises and reduce any impacts from our operations on the environment and local community.
As far as possible purchase products and services that do the least damage to the environment and encourage others to do the same.
Assess the environmental impact of any new processes or products we intend to introduce in advance.
We invite you to browse through our website and see first hand the many advantages available to you by doing business with Gregory Poole Equipment Company.