Hydraulic Cylinder Repair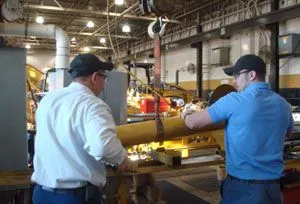 Your fleet relies on hydraulic cylinders and related components every day. Even the highest quality Cat® equipment can require periodic repairs or maintenance, particularly when you use them in harsh operating conditions. As a partner in construction since 1951, Gregory Poole can help you with any hydraulic cylinder repair issue.
Cylinder Repair Services
The Gregory Poole hydraulic repair shop is fully equipped to perform comprehensive services for construction and heavy equipment fleets. Choose us for:
Complete cylinder reseals using quality OEM replacement parts, washing all components to remove contaminants and testing for leaks and other flaws
Cylinder honing to extend component life by removing scratches and restoring the original crosshatch pattern
Retubing damaged cylinders, keeping salvageable components and saving you considerably compared to the replacement cost
Precision straightening of bent rods
Rechroming and polishing scratched rod surfaces
Reboring worn cylinder rods and eyes back to the original manufacturer's specs
Complete cylinder remanufacturing or exchange
For more information about your hydraulic repair options or to request a quote, contact the Gregory Poole service department.
The Gregory Poole Difference
We work with constractors, equipment fleets and government agencies of all sizes, in all industries. We understand that, no matter how successful you are, keeping costs in line and cycle times on schedule is an important priority. To help you succeed, we've invested heavily in our hydraulic repair capabilities. Count on Gregory Poole for:
Can't make it to our machine shop? We can perform many hydraulic repair services in the field. With a fleet of fully equipped mobile service trucks, we can typically dispatch a technician to your location in 24 hours or less.
Don't wait to repair or perform routine maintenance on your important hydraulic components. Call Gregory Poole to book an appointment today.