Bus Maintenance Checklist

Whether you're a bus driver or the director of a bus service, keeping your bus safe and away from damage is always important. Public transportation buses, school buses and other types of charter buses need dedicated attention to perform at top levels. Conducting regular maintenance checks is the best way to extend your bus's life, save on unnecessary repair costs and ensure the safety of passengers. But what's the best way to schedule maintenance inspections?
One strategy that many companies and fleet owners use is maintenance checklists. These detailed forms map out the parts that need an inspection in an easily accessible list. This list streamlines the check-in process and makes it less likely that you forget a component, saving costly fixes in the future. Other practices include consulting with technicians and keeping a supply of high-quality parts. Here are some of the best maintenance practices for buses.
Bus Maintenance Fundamentals
What are some of the basics of maintaining a bus? Everything from cost, parts and cleanliness plays a role in overall bus health. The best way to make sure your bus stays in top shape is to communicate regularly with trusted technicians and keep a regular checklist.
The best bus maintenance is proactive. You want to prevent malfunctions and repairs before they occur, so anticipating possible faults in advance is a good strategy. For instance, problems like flat tires and excessive wear are preventable with intentional actions. Remember cleanliness, fuel economy and engine health while prepping for your inspections. In doing so, you'll undoubtedly save money on avoidable mistakes.
What are some other things to keep in mind when planning bus maintenance?
Supply of essential parts: One of the best ways to ensure your bus's longevity is keeping a supply of necessary parts on hand. When you have a reserve of high-quality products ready and waiting, you won't have to order a part and wait for its arrival to repair your bus. A consistent stock also affords you peace of mind and can cut down on repair costs.
Fuel efficiency: The fuel efficiency of your bus is crucial for maintenance. While the gas mileage of a bus varies depending on the model, it's important to know how many gallons per mile your vehicle usually uses. A dip in fuel efficiency is typically the sign of a larger problem, whether poor tire pressure or a leak in the engine.
Owner's manual: It's always a good idea to reference the owner's manual for your bus before starting any maintenance check. Every model is different and might require individualized maintenance steps that don't apply to other buses. Be sure to flip through your manual and check if it has any notable tips.
Items Checklist
Next, we recommend using a checklist for maintenance. Regular maintenance checks ensure that your vehicle runs correctly and prevents possible safety issues. One of the best ways to perform a thorough inspection is to use a checklist. The list simplifies the inspection by making it easier to remember all the components.
But what items should you include on your bus maintenance checklist? You should check many different items, both inside and outside of your vehicle.
Here are some of the essentials to check on the exterior of the bus:
Fluids and oils: Check for correct engine oil levels and adjust if needed. Make sure there aren't any fluid leaks, either under the bus or in any compartments.
Tires: Inspect the air pressure. Look for any signs of damage or excessive wear.
Lights: Make sure all lights turn on properly.
Brakes: Test the brakes and ensure they're functioning correctly.
Drive belts: Look for cracks or burns.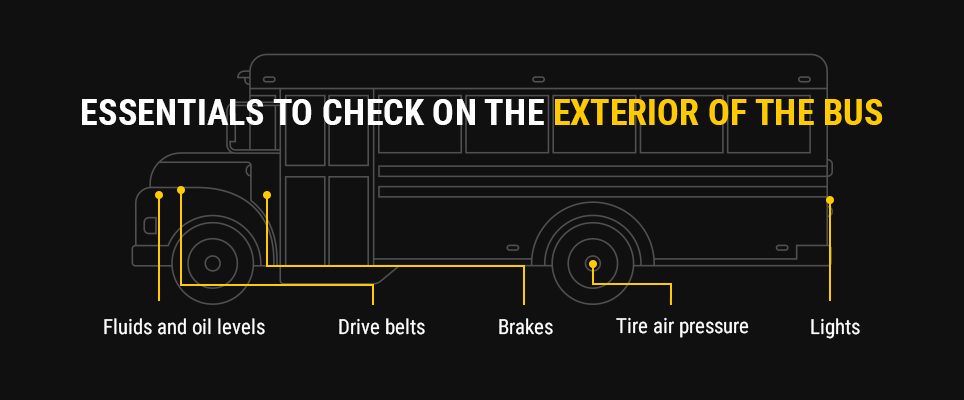 And here are the things to check in the interior of the bus:
Seat belts: If your bus has seat belts, make sure they click into place and don't have rips or fraying.
Seats: These are essential for passengers' comfort and safety, so check that the covers are clean and damage-free and the frames are secure.
Doors: Look for any cracks in the glass, and test how well it opens and closes.
Windows: Again, ensure there aren't cracks and that the windows open and close properly.
Mirrors: Look at the driver and passenger side mirrors and inside mirrors to ensure they face the right way.
Heating and cooling: Make sure any heating, air conditioning or fans work.
Emergency kit and fire extinguisher: Check that your first-aid kit isn't low on supplies and that the extinguisher is charged.
While this isn't an exhaustive list, these are some essentials for regular inspections. Using a list minimizes the chances of forgetting to inspect something critical to your bus's longevity and your passengers' health.
Benefits of Bus Maintenance
Regular maintenance check-ins have many advantages. Overall, you ensure the safety of both your passengers and other road vehicles while also reducing repair costs.
Here are some of the economic benefits of regular maintenance:
Lower operating costs
Lower repair costs
Lower insurance costs
Lower vehicle downtime
Improved fuel economy
Increased longevity of the vehicle
Here are some safety advantages:
Greater driver protection
Increased passenger safety
Reduced risk to other motor vehicles
Repairs are often costly due to expensive parts and loss of profit during downtime. The cost of regular bus maintenance is worth it to prevent expensive and last-minute fixes. Preventive maintenance saves you excessive time and money. And, by keeping your bus running properly and safely, you're more likely to meet state and federal law requirements. Meeting these standards keeps the road safer for all drivers.
Choose Gregory Poole for Bus Maintenance

At Gregory Poole Equipment Company, we understand the importance of proper bus maintenance. In addition to buses, our extensive services range from transportation services and construction equipment to agricultural tools and power services. Since 1951, we have been a leader in the heavy industry in North Carolina. When it comes to buses, we know you want to preserve your bus in a cost-effective and timely way.
We have the skills and tools necessary for comprehensive bus maintenance, repairs and inspections, from major restorations to simple part replacements. Our bus services include:
Transmission
Electrical
Engine
Air conditioning
Our bus service locations are conveniently located across North Carolina and provide excellent customer service with all the assistance you require. We offer cost-effective parts, repairs and maintenance services that ensure your vehicle's health.
If you're looking for a new bus, you can browse our catalog of the most reliable models on the market — Blue Bird and Micro Bird models.
We're here to help you with all your bus maintenance services. Contact us today for any heavy equipment needs and learn more about our products and services.