JP Edwards Inc, out of Smithfield, NC is celebrating 50 years in business, and building the state of North Carolina. The company has been loyal to Cat® since they started working with Gregory Poole 35 years ago after making the switch over from using John Deere machines. Jimmy Edwards, current owner of JP Edwards, says a big reason for them making the switch to Cat machines was the warranties. He states that the Cat warranties on their machines take care of more than the competition would.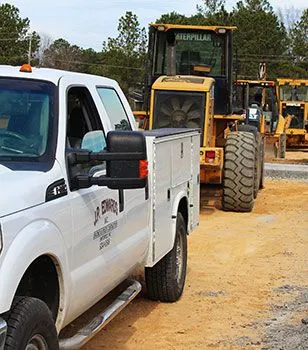 Although the initial reason for switching may have been for the warranty, JP Edwards continues to work with Gregory Poole because of the relationships they have built over 35 years. The company now has over 25 Cat machines including compact track loaders, hydraulic excavators, wheel loaders, track type tractors, motor grader and more, totaling about $5 million worth of equipment.
JP Edwards currently has multiple projects that they are working on across North Carolina. In Clayton, the company is working on expanding the parking lot in Parkway Village next to Riccobene Associates Family Dentistry, right off of Route 42. The company also has several Cat machines prepping the land for the future site of a Hardee's and gas station/mini mart in Selma where Route 70 and Highway 95 meet. Some other project sites include the Hampton Inn in Benson, and several drug stores and banks around the state.
When James Paul Edwards started the business, it was a lot of small jobs, and mostly farm work. Then when his son, Jimmy Edwards, stepped into the business after leaving the Marines, they began to grow the company together. What started out as a $30,000 a year revenue business has today grown into an $8 to $10 million revenue business. JP Edwards Inc does not let anything bring them down, not even when the recession hit. Jimmy Edwards had set up a rainy day fund for the business in case something were to happen, and when the recession came around, business was able to carry on as normal as possible. This has helped them to grow their business even today. The company currently has 35 employees in addition to Jimmy, and some of those employees have been there for over 40 years