Fred Wallace, owner of a 32' Topaz Express named 'Riptide', came to a crossroads many boat owners face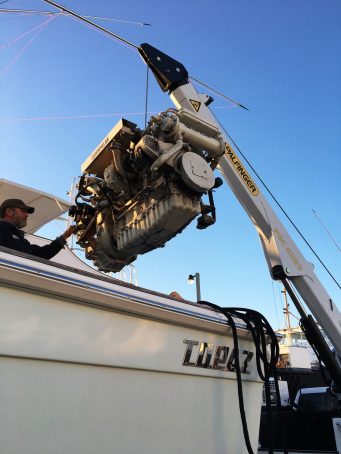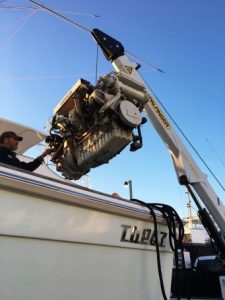 – do I repower or do I buy a new vessel? Mr. Wallace weighed the options available and after careful consideration he opted to repower his boat.
"There are a lot of hidden benefits of repowering an older boat," Wallace explained, "the cost of new boats has drastically increased, so it makes more sense to repower – especially if you love your current boat."
As part of his decision making process, Wallace attended the Ft. Lauderdale Boat Show to view all of the options available to him. Having previously owned two other boats with Cat engines, Wallace was familiar with the quality of Cat products. Upon viewing the new Cat C7.1 he knew it would fit his boat and provide the increased horsepower he was seeking.
When asked what the deciding factors were in his purchase Wallace said, "I went on 2 sea trials aboard the Cool Cat and was very impressed with the C7.1 engine. It was vibration free, smoke free, quiet, a lighter weight and Tier 3 compliant. I also spoke with a charter boat captain who had C7.1s and he was extremely happy with his engines."
Gregory Poole worked with Mr. Wallace to repower the 'Riptide' – removing the old Cat 3126 engines (385mhp) and replacing them with new Cat C7.1 engines (500bhp). Wallace said his experience with Gregory Poole was great, the project went flawlessly and everything was completed correctly. He also noted that now the 'Rip Tide' can "cruise at 30+ knots and even a wine glass placed on the helm won't move, the boat runs smooth as silk."
To learn more about repowering your existing vessel, please give us a call 252-504-2640.