Alternative Fuel Solutions
"Green" Buses
These days, we all want to do better for the environment. Alternative fuel school buses are not only an environmentally friendly alternative to petroleum gas, but they send a positive message to the students who ride them everyday. Best of all, alternative fuels provide an effective hedge against rising gas prices, giving you more control over your costs in the long term. Visit one of our three locations in Garner, Mebane and Fayetteville for more information about why switching to an alternative fuel school bus is the right choice for your organization!
Blue Bird Goes Green
​Blue Bird and Micro Bird are America's most popular alternative fuel brands, with over 3,500 sold to date. Blue Bird and Micro Bird are the only manufacturers offering  a complete line of buses powered by alternative fuels, such as propane and compressed natural gas. Alternative fuel solutions offers the lowest fuel and maintenance costs, while providing best in class performance. Offerings include the Blue Bird Vision and All American models, as well as the Micro Bird G5 Commercial and Dual rear Wheel models.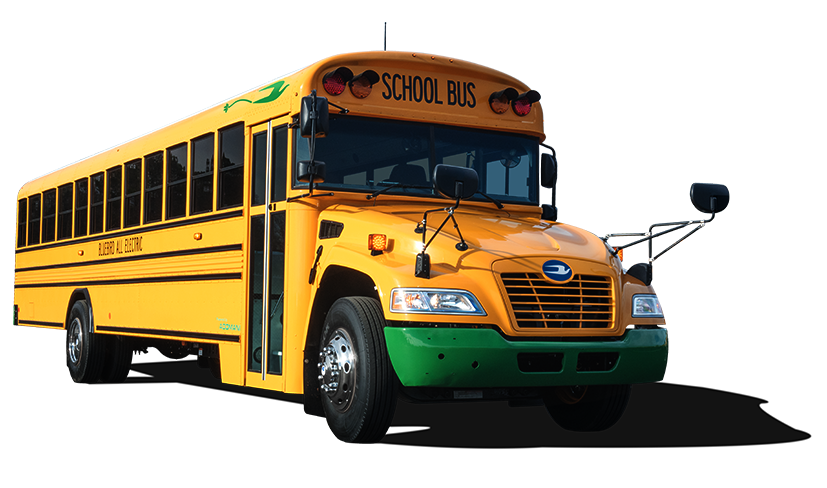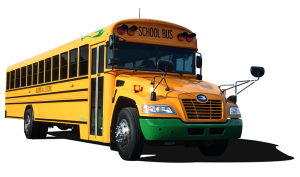 Electric Vision School & Activity Buses
Blue Bird recently unveiled their all new Vision Electric Bus. This vehicle offers the same proven and reliable drivetrain power as the traditional Vision buses, but with zero emissions it leaves a cleaner footprint. One charge can last up to 120 miles, and recharge time is normally less than 8 hours. With no need for oil changes or engine maintenance, the Blue Bird electric bus has lower maintenance costs than a traditional bus.
There are hundreds of thousands in grant incentives for Electric school buses, which could help to make purchase acquisition more affordable.
Propane Powered Vision School & Activity Buses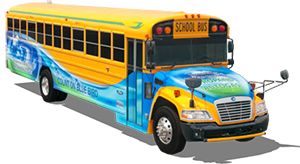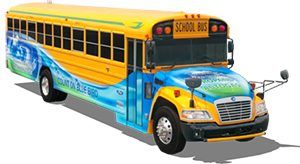 The Blue Bird Propane-Powered Vision® school and activity buses are conventional Type C buses which run on propane instead of diesel fuel. Designed and built for maximum quality and reliability, the Propane-Powered Vision® meets all applicable School Bus Federal Motor Vehicle Safety Standards (FMVSS) and Canadian Motor Vehicle Safety Standards (CMVSS) while offering several distinct advantages, including: meets Environmental Protection Agency (EPA) and California Air Resources Board (CARB) certification requirements; provides a safe, attractive and viable alternative fuel choice amidst rising diesel fuel prices; allows for operators to receive tax incentives for purchasing both propane-powered school buses and propane fuel, including a 50-cent rebate on every gallon of propane purchased lowers operating and maintenance costs.
The Propane-Powered Vision School Bus utilizes the latest advancements in propane technology, including the ROUSH CleanTech Liquid Propane Autogas Fuel System and the Ford 6.8 liter engine. The ROUSH CleanTech Liquid Propane Autogas Fuel System used to power the bus differentiates the Propane-Powered Vision from diesel-powered school buses. Not just another LPG conversion or retrofit system, ROUSH CleanTech's technology is a fully integrated system, designed in complete harmony with the OEM engine.
Download more information:
Propane Powered Micro Bird G5 Commercial & School Buses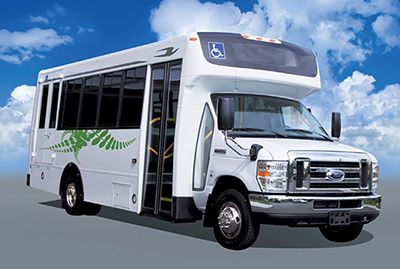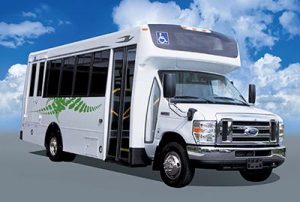 Alternative Fuel BusThe Propane-Powered Micro Bird uses Ford's E-450 chassis with 6.8L engine and ROUSH® propane system. The horsepower and torque provides best in class performance and offers a passenger capacity up to 25 passengers. The unit is also available with flat floor and wheelchair access door. The 41 US gallon fuel tank allows the Propane- Powered Micro Bird to travel up to 320 miles, depending on driving conditions.
Download more information:
Compressed Natural Gas (CNG) All American Rear Engine School Buses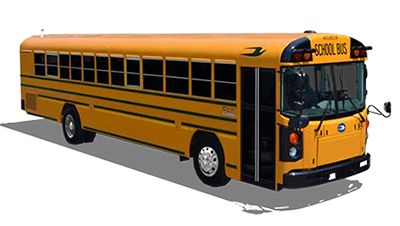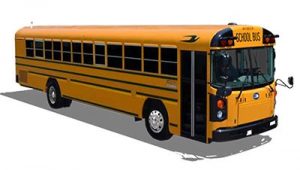 The All American Rear Engine bus extends Blue Bird's legacy of leadership by setting new industry standards for driver ergonomics and productivity, safety, serviceability, passenger comfort, and life-cycle value. From its bonded-for-strength windshield to its recessed LED rear lighting, its new features rest on our time-honored foundation of school-bus-specific design, superior materials, and cut-no-corners construction. The engine's rear location provides exceptional serviceability, allows extra cooling and consequently higher power ratings, reduces noise to lessen interference with the driver, and allows an unencumbered stepwell for boarding ease and a clear view of children boarding and exiting. With capacities ranging from 66-90 students and attractive fuel choices of diesel or compressed natural gas, the All American RE is an ideal transportation solution, especially on routes requiring extra power.
Download more information:
A History of Innovation
For over 62 years, our reputation for quality has been unsurpassed – we are committed to helping North Carolina schools and businesses lower their costs with innovative bus and truck technology. Our selection of alternative fuel school buses for sale represents the latest step in our commitment to local educators. Let our experienced team match you with the right vehicle for your purposes.