Telematics and GPS Play a Big Part in Being Able to Deliver Jobs On Time
On Time Delivery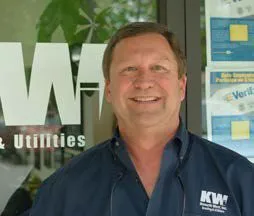 As a contractor serving housing tract developers in the Research Triangle region of North Carolina, time is of the essence. In a booming market, national residential developers want to know how fast a contractor can prepare a site for vertical construction.
"They don't want to hear about the weather, or reasons why something is broken down," says Joel West, owner of Kenneth West Inc. in Raleigh, N.C. "All they want to know is when you're going to finish." And what keeps the 88-employee firm in demand with national tract builders is that it delivers on time, and on budget.
"They know that when we tell them we're going to do something and get it done on time, we do everything we can to get it on time," says West, who assumed control of the company in the mid-90s. "And that's what has helped us through recessions and everything else is because we really strive to do what we say. And we've worked for some of these tract builders for 25 years."
Established in 1972 by Joel's dad, Kenneth West Inc. (KWI) specializes in clearing and grubbing, erosion control, mass grading, underground utility construction, curb and gutter, and pavement construction in and around the Triangle area of North Carolina. Project scope varies from five acres and up, sometimes moving hundreds of thousands of cubic yards per project.
KWI crews start by performing the initial erosion control measures and move to clearing and grading. Then they install underground utilities, and complete the job by putting down curb, stone and asphalt.
With approximately 100 pieces of equipment, KWI depends on a fleet of Cat® excavators and dozers to complete the work within the specified time period. Greater efficiency and higher uptime are hallmarks of the Cat machines, West says.
"I would say our Cat equipment, the parts availability and the service that we get from our Cat dealer, Gregory Poole, has helped us achieve many of the goals that these builders expect and demand," West says.
"And our operators are really impressed with how well the Cat machines perform," he adds. "Especially the D5K2 Dozers. They really like those machines for our application. They're a perfect size. They have good balance, and they run really well—just an all-around good machine for the size of projects that we do." 
GPS increases productivity
About eight years ago, KWI equipped a dozer with GPS. Today, the contractor utilizes GPS on seven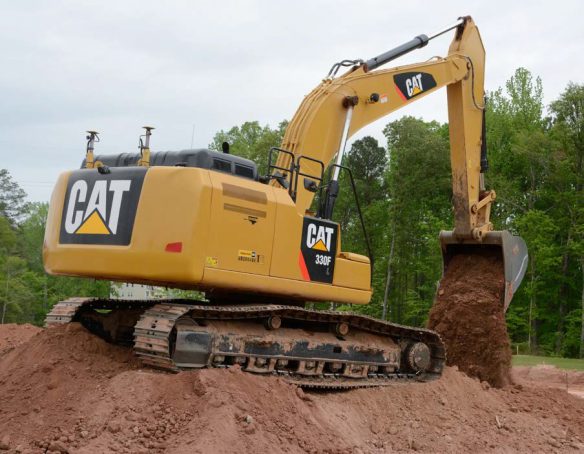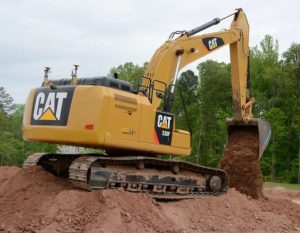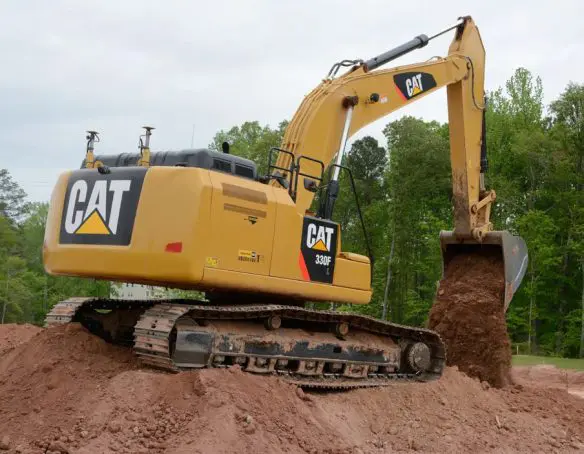 D5K2s, as well as several larger Cat dozers and four Cat 336E S Hydraulic Excavators. West says the change has made the company 20 percent more efficient when it comes to earthmoving work.
"Everyone on the site knows exactly where that dirt is supposed to go, whether it's a fill section or a cut section," he says. "There's no doubt it makes things a lot more economical and faster moving dirt around when everyone on site knows exactly what you want to achieve.
"The biggest change we've seen by going to GPS and utilizing excavators is that we're able to work a lot more," West adds. "The weather doesn't affect us as much."
According to West, all of the easier site prep projects in the Triangle region have been developed, which makes the current work more challenging to complete.
"The good sites are gone now, so you're dealing with a lot of mud and a lot of rock," he says. "In tandem with our Cat articulated trucks, we're able to use our excavators to undercut areas, bring that mud out and replace it with good dirt. And it's the same thing with rock—when we get into small rock jobs, we can move the rock around.
"I would say our improved efficiencies are coming from GPS," West adds. "We're getting more GPS put on each new machine we order. We're getting better, newer and more efficient machines."
Maintaining project "balance"
A point of emphasis for KWI is to avoid hauling dirt on or off site, as it represents a big expense for the developer. At the front end, KWI estimators sit down with a representative of the developer and come up with a plan to make the site balance.
"So even in the early stages, we're helping the developer try to keep the project cost down," West says, adding that KWI will conduct a preliminary dig to determine the soil type and if the site has any embedded rock. "We really strive to keep the dirt on site. That's where most of the expense is. When you start hauling off site and hauling in, you could be looking at three or four times the expense of moving the same material on-site.
This is where GPS comes into play, as earth is moved around the site. "It's a lot more efficient," West says. "You can tell there's a lot more dirt being moved to the right places. Very rarely do we have something where we cut too much out. There's just a lot less chance of something being off with the GPS—it's definitely the way to go.
"We check it out everyday," he continues. "You go in and check out your control to make sure everything is still in alignment. Basically we do one model and you know exactly what that project is going to be. It should balance, or come pretty close to the earthwork balance we seek when we get done."
Product Link™ helps KWI technicians monitor machine hours and identify potential issues through the VisionLink® interface. Product Link wirelessly connects you to your equipment giving you valuable insight into how your machine or fleet is performing. Information such as location, hours, fuel usage, productivity, idle time, and diagnostic codes are made available through online web applications so that you can make timely, fact-based decisions to maximize efficiency, improve productivity, and lower the cost of owning and operating your fleet.
"That is very effective tool, especially for our service guys," West says. "VisionLink helps them know exactly what's going on with a machine in real time, so they can prepare for it when they get there. And by looking at it we can tell if one of our guys has been idling too much, so it's an effective way to monitor fuel consumption."
Cat conversion
A chance meeting at a fundraiser nine years ago led to a conversation between West and a representative of Cat dealer Gregory Poole. Coming out of the recession, West recognized the need to upgrade KWI's equipment fleet. At the time of the meeting, KWI owned just two Cat machines in its fleet of 80 pieces of equipment. Now, Cat machines comprise about 75 percent of the fleet.
"Our company is all about building relationships with the tract builders, and that's what Gregory Poole is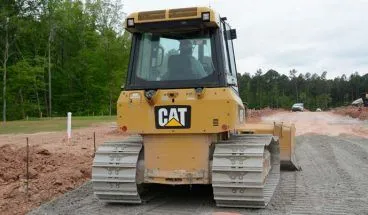 all about, too, so it's really a good match," West says.
If a GPS-equipped dozer or excavator goes down on the job, KWI knows it can count on a prompt response from its Cat dealer.
"That's what's moving your jobsite, and you've got to have those two pieces back up and running, and they have been very responsive to getting parts in and getting us back up and going," West says. "Time is money."
And they have a good stable of very knowledgeable technicians. Whether you bring it in to the shop, or if it's a field service, they're very knowledgeable and reliable about showing up pretty quick.
"I think in the end you get what you pay for," West adds. "Caterpillar builds a quality machine. In the end it's not always about the price of something at the beginning. It's the service you get, the parts response, and just about everything we get from Caterpillar and Gregory Poole—it's a quality effort on everyone's behalf."