North Carolina-based Gregory Poole offers a range of used heavy equipment for sale and rent. Our used equipment includes high quality Cat® products for forestry, construction, quarry, demolition, waste and mining operations.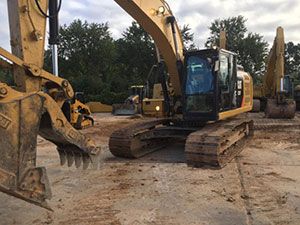 Cat® Used Heavy Equipment for Sale
North Carolina businesses value the durability and dependability of Cat machines, but many don't have the resources on hand to purchase new. We offer used Cat heavy equipment for sale in North Carolina and beyond, providing you with the dependable machine you need at excellent savings.
In addition to Cat equipment, we offer used heavy construction equipment in North Carolina from other brands, so you can choose from a wide variety of equipment makes and models. Gregory Poole carefully inspects all used equipment to ensure they meet industry standards and your operating requirements.
New and Used Construction Equipment Parts
Long delivery times and order mistakes are unacceptable when you need heavy equipment parts. Gregory Poole provides you with the used parts you need, when you need them. Our well-trained technicians can help you determine the exact part you need, delivering it to you quickly through our network of 19 branch locations.
We offer both new and used Cat heavy equipment parts, but we only offer used parts of the highest quality. By carefully tracking hours of use and work conditions, you can be sure you get the best and most reliable parts. Call our excellent parts staff today to order used parts nationally or internationally.
North Carolina Heavy Equipment Rental
For smaller projects, renting heavy equipment often makes the most financial sense. With a Cat heavy equipment rental, North Carolina businesses save money and avoid the hassle of servicing machines and the cost of upkeep. Our rental equipment is of the highest quality and routinely serviced to ensure it's operating at peak performance.
We offer rentals through our dealerships located throughout Eastern North Carolina. Whether you need a long or short-term rental, Gregory Poole has the equipment you need.
Financing Used Heavy Equipment
South Carolina, North Carolina, Virginia — no matter where you're located, heavy equipment purchases can put a burden on your expense account. We offer a number of financing options designed to take the pressure off your budget. In addition to new equipment financing, Gregory Poole offers financing options for used heavy equipment in North Carolina and beyond.
Once you make a purchase, you need to protect your investment. Take advantage of our coverage and service packages, available for both new and used equipment, to ensure dependable equipment performance.
Gregory Poole Used Equipment for Sale
At Gregory Poole, we offer a comprehensive variety of used heavy construction equipment from Caterpillar that sets the standard for power and performance. Some of the many types of heavy machinery we sell include:
Why Choose Gregory Poole for Used Heavy Construction Equipment From Caterpillar?
We've been a trusted source for new, used and rental Cat equipment for over 70 years. We pride ourselves on our strong technical expertise and we offer long-term product support to assist our customers long after they make a purchase. As a family-owned business, we're committed to serving the communities around us, providing businesses with trustworthy solutions that meet their equipment needs.
Check Our Gregory Poole Used Parts and Equipment Listings Today
Cat used heavy equipment for sale in North Carolina is in demand, and our selection of machines and equipment meets this need. Contact us today for used equipment information and quotes. We'll provide you with the equipment you can count on.