Computer Aided Earthmoving System (CAES)
The Computer Aided Earthmoving System (CAES), a sophisticated GPS-based fleet management tool only available on Cat® equipment, meets the working needs of landfill and recycling center operators. CAES uses satellite technology to locate machines and track the compaction and earthmoving processes in real-time. This allows you to meet several key goals, including improving productivity, lowering operating costs and extending landfill life.
CAES is available on Cat landfill compactors, motor graders, track-type tractors and wheel tractor scrapers. As your exclusive Cat dealer in eastern North Carolina, Gregory Poole is the only place in the region selling and servicing the CAES platform. Let us help you assess your needs and determine whether or not CAES is right for your fleet.
Applications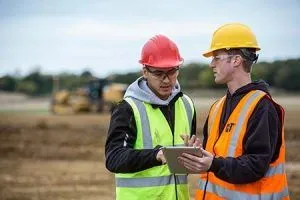 Use CAES for grade control and landfill planning, as well as engineering, production monitoring and surveying. The technology includes an in-cab display that provides you with real-time elevation, compaction and grade-control information. With this data, you can make corrections as you work and maximize the efficiency of your machines, improving drainage and airspace usage.
You can also use CAES to expedite compliance with hazardous waste disposal regulations. By identifying site-specific areas for the storage of items with special handling needs, your team can get medical, industrial or other hazardous waste where it needs to go faster.
System Components
CAES consists of both in-cab and office components. A pair of GPS receivers — one on your equipment and one reference station — capture data and transmit it to a web-based application and storage system. CAES can determine machine positioning with accuracy to the centimeter. An office software platform includes applications for site planning and surveying, management, monitoring and reporting of day-to-day operations and more.
By leveraging advanced technology and easy-to-use functionality, CAES can help drive your operation to new heights of productivity. At a glance, you can obtain accurate information without needing traditional stakes and surveying crews. This, in turn, saves you money while improving cycle times and reducing wear on your equipment.
Want to learn more about CAES or see this groundbreaking technology in action? Contact a Gregory Poole representative in your area today to get started.