​Retirement / Assisted Living Buses for Sale
Key factors when searching for an assisted living, retirement or nursing home bus for sale include accessibility, comfort and a smooth ride delivered by intuitive operator controls. For all this, plus the lowest cost of ownership in its class, choose Blue Bird. As the authorized Blue Bird dealer for North Carolina, Gregory Poole has assisted living buses for sale that are fuel efficient and easy to maneuver, even in tight spaces.
We make it easy to purchase and own senior care buses in North Carolina and beyond. As a leading source for nursing home bus sales, we pride ourselves on exceptional customer service, cost-effective pricing, financing options, and more. We'll help you get the maximum value out of your retirement buses with after-sale support including complete parts distribution and unmatched technical expertise. ​Contact us when you are ready to expand your fleet, and let our experienced team help you choose from our extensive lineup of special needs buses for sale today.
Contact Us About Our Retirement/Assisted Living Buses

New Assisted Living Buses for Sale
When your business is in nursing home, assisted living or senior care, Blue Bird and Micro Bird offers a bus to meet your transit, para-transit, or specialty vehicle needs Our extensive inventory includes the G5 Commercial, MB-II Single-Rear Wheel, and G5 Dual Rear Wheel Models. All retirement and assisted living buses for sale come with a variety of seating configurations and wheelchair lift options to ensure all or your passengers ride in comfort. Plus, our Blue Bird retirement buses are purpose-built to meet the Federal Motor Vehicle Safety Standard (FMVSS) requirements, and represent the very best in safety, quality, and dependability.
G5 Commercial Retirement Buses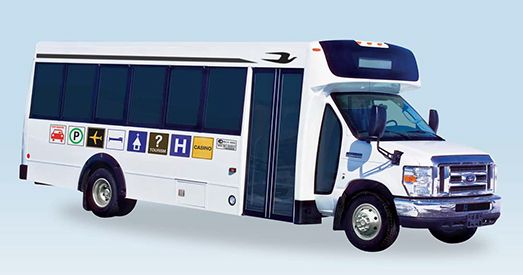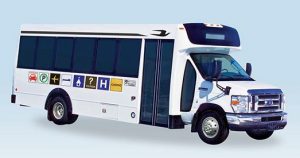 Micro Bird G5 Commercial senior care buses offer a full-length solution featuring a heavy gauge, galvanized steel structure and side impact barriers, steel or aluminum sub-floor structure. The G5 retirement bus can seat up to 25 passengers and has a special wheelchair lift option to accommodate assisted living passengers with disabilities. Additional features include:
Body-mounting blocks that offer double-action energy absorption for the maximum suppression of vibration and noise
A window featuring more-view for optimal visibility of loading zones
An interior configuration that is both spacious and flexible, offering an array of style and fabric options
Download more information:
Mini (Single/Dual Rear Wheel) Senior Care Buses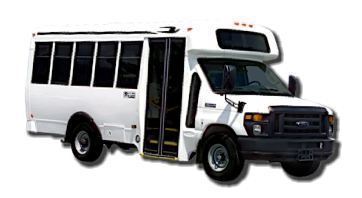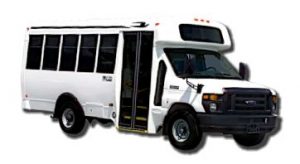 With 10 models of retirement buses to choose from, Blue Bird offers a full line of Micro Bird Type A buses to meet your specific needs. Drawing on more than 80 years of experience, Blue Bird has developed a Type A line that meets or exceeds all requirements of the Federal Motor Vehicle Safety Standards – for both standard seating and wheelchair accessibility models. With seating from 10-30 passengers, each Micro Bird model is engineered for quality and equipped with the very latest safety features, including:
A rugged steel roll cage
Passenger seats that have been specially built
An entrance door that opens outward and features a panoramic view
A driver window featuring an optimal view
Micro Bird assisted living buses for sale are available with a choice of Ford or GM chassis and single or dual rear wheels. When you shop with Gregory Poole, you can be assured, there is a Micro Bird equipped to meet your small bus needs. Models are even available with your choice of engine types including gasoline, diesel, or propane.
The Blue Bird Micro Bird offers real bus strength, unrivaled safety, and years of dependable service. Features of the Blue Bird Micro Bird body include Blue Bird's trademark one-piece roof bows and unitized body construction and our embossed drip visors over windows to prevent corrosion. Heavy-duty structural components from front to rear form a sturdy steel fortress around passengers and provide extra strength that adds years to the life of the bus.
North Carolina's Retirement & Assisted Living Bus Experts
With the legendary quality of Blue Bird and the comprehensive customer service of Gregory Poole, expanding your fleet is easy. We have a selection of new assisted living buses for sale that can be customized to meet your specific needs. Our factory authorized service team can help ensure your new bus has everything you need to serve your clients with the respect and comfort they deserve.
If you are searching for nursing home bus sales in North Carolina and across the region, you've come to the right place. With over 60 years in the industry, we have the experience, inventory, and expertise to find the new or used senior care buses that represent a cost-effective solution for your business. Get in touch with us today or stop by our sales location nearest you for additional information and a competitive quote.