​Daycare / Child Care Buses for Sale in NC
When you're transporting toddlers or other young children, nothing is more important than safety. Gregory Poole Bus Sales offers new child care buses for sale by Blue Bird, the global leader in safety and reliability. For over 62 years, our reputation for quality has been unsurpassed – we are committed to supplying and servicing the day car buses that keep North Carolina children safe. If you're a child care provider, you know how important it is to have equipment you can rely on — let Gregory Poole outfit you with a customized day care bus that meets your needs.
Contact Us About Our Daycare/Child Care Buses

Blue Bird Day Care Buses for Sale
Blue Bird and Micro Bird builds one of the safest child care buses for sale in the world and offers a bus to meet your day care and/or child care transportation requirements. You are sure to find what you are looking for within our extensive inventory of childcare buses for sale in NC. Models include the MB-II Single-Rear Wheel and G5 Dual Rear Wheel buses, both of which come in a variety of seating configurations to include wheelchair lift options.
Our child care buses for sale represent the highest quality and deliver exceptional value and performance. All day care and/or child care buses are built to the Federal Motor Vehicle Safety Standard (FMVSS) school bus construction standards and represent the very best in safety, quality, and dependability. Our expert sales representatives will help assess your needs in order to identify the buses that represent the most efficient and cost-effective daycare transportation solution.
Mini (Single/Dual Rear Wheel) Daycare Buses for Sale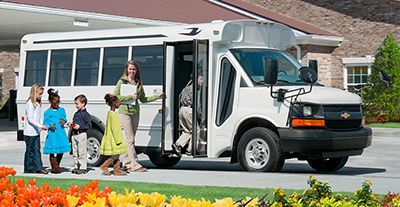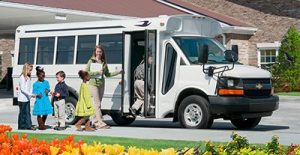 With 10 models or childcare buses for sale to choose from, Blue Bird offers a full line of Micro Bird Type A buses to meet your specific needs. Drawing on more than 80 years of experience, Blue Bird has developed a Type A line that meets or exceeds all requirements of the Federal Motor Vehicle Safety Standards – for both standard seating and wheelchair accessibility models. With seating from 10-30 passengers, each Micro Bird model is engineered for quality and equipped with the very latest safety features, including:
A roll cage made of rugged steel
Passenger seats that have been purpose built
An entrance door that opens outward and offers a full view
A window specially for the driver's view
We carry a large inventory of daycare buses for sale to suit your diverse transportation requirements. Micro Birds are available with a choice of Ford or GM chassis and single or dual rear wheels, so that customers can be assured, there is a Micro Bird equipped to meet your small bus needs. Our childcare buses can be fitted with a variety of accessories and are available with your choice of engine types including gasoline, diesel, or propane.
The Blue Bird Micro Bird offers real bus strength, unrivaled safety, and years of dependable service. Features of the Blue Bird Micro Bird body include Blue Bird's trademark one-piece roof bows and unitized body construction and our embossed drip visors over windows to prevent corrosion. Heavy-duty structural components from front to rear form a sturdy steel fortress around passengers and provide extra strength that adds years to the life of the bus.
Download more information:
Quality You Can Count on in Child Care Buses for Sale in NC
Purchasing a new day care bus intended to transport children is an investment in peace of mind. The new Blue Bird day care buses for sale from Gregory Poole are some of the most advanced vehicles on the market today. Buy new and get the benefit of improved handling, fuel efficiency and, most of all, the comfort of knowing your purchase can be counted on for years of trouble-free use.
Gregory Poole Bus Sales brings over 60 years of experience in the industry and utilizes a strong dealer network to provide the best in quality, service, and selection. We go above and beyond with exceptional after-sale service and support, providing everything from parts and distribution to financing and technical expertise. Give us a call or stop by one of our convenient locations for more information and a competitive quote on a daycare bus for sale near you.