Service Training
Cat Dealer Academy
Cat construction machines are known for being the most reliable, hardworking and technologically advanced heavy equipment in the world. It takes a special set of skills to properly diagnose, maintain and repair Cat equipment, skills that can only be acquired through effective training. Gregory Poole gives aspiring technicians the opportunity to learn how to service Cat construction machines with excellence and professionalism by attending the Cat Dealer Academy. This comprehensive Cat equipment training program will prepare you to launch your career as a Cat Service Technician.
Construction Equipment Training Combined With General Education Courses
The Caterpillar® Dealer Academy is a cooperative two-year college level student technician education program, which leads to an Associate in Applied Science degree with a major in Caterpillar Service Technology. The program combines hands-on technical training with general education courses to provide a solid educational foundation that will benefit you throughout your career. Florence Darlington Technical College, working in close relationship with Gregory Poole, administers the program activities.
Caterpillar Dealer Academy Program Overview
The construction service training program requires spending half of each semester attending classes at FDTC, where you will receive instruction in all aspects of servicing Cat equipment. Courses cover key topics such as diesel engines, hydraulic and electrical systems, and diesel fuel systems. You will also take courses in economics, English composition, mathematics and general humanities to round out your educational experience.
The other half of the program entails working as a paid intern at a Cat equipment dealership. You will be able to apply what you've learned in a real-world work environment and receive compensation for your efforts. By the time you complete the two-year program, you'll be fully prepared to begin your challenging new career as a service technician and have the knowledge and skills required to advance your career.
Customer Training
Fees and Enrollment: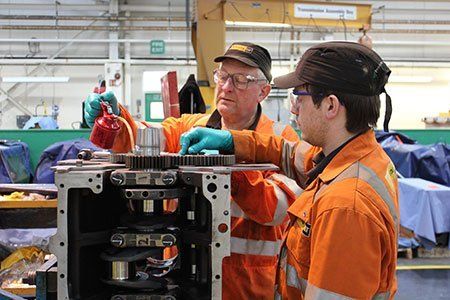 $250.00 per student per day. Fee includes lunch and literature handouts. Classes have limited enrollment. Full payment or a PO is needed to confirm your reservation.
Class Hours:
Scheduled classes start at 8:00 a.m. and are usually 8 hours per day.
Class Location:
Gregory Poole Equipment Company
4807 Beryl Road
Raleigh, NC 27606
Customized Courses
Gregory Poole's Training Department can customize any of the above courses to meet your needs and provide training at your site. We are able to develop a course for your specific training requirements if the course is not featured in our scheduled classes. Please contact us for more information and pricing.