School buses have the important job of transporting children to and from school safely and efficiently. That's why it's crucial to service and repair your buses at the first indication of system failure or malfunction. You need a reliable school bus repair shop to tackle fixes both big and small and ensure your school bus stays up and running for everyday use.
Contact Us About School Bus Repairs
At Gregory Poole Equipment Company, we have the school bus repair services you need to ensure that your vehicle is as safe, secure and efficient as possible. We work hard to meet the needs of our customers and provide top-notch school bus services from start to finish.
Your Local School Bus Repair Shop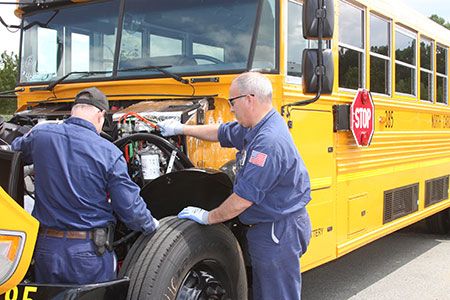 Gregory Poole technicians can readily repair a wide variety of different bus makes and models. From forward engine to Bluebird Vision to micro school buses, Gregory Poole has the school bus repair services you need to restore any type of vehicle.
Our skilled techs have the know-how and training to make fast, effective repairs so you don't have to. Whether you need on-site services or would rather receive maintenance in one of our school bus repair shops, we can help you fix your buses in time for the next school week.
We provide a wide range of school bus services throughout North Carolina, including fixes and preventative maintenance for the following systems:
Engine
Transmission
Air conditioning
Electrical
Differential
Chassis
In addition to outstanding services, our school bus repair shops also provide the parts and components you need to make your own repairs.
School Bus Repairs Near Your Location
Finding a school bus service site near you has never been easier with Gregory Poole. With school bus repair shops located in multiple North Carolina locations, we make sure you can get your vehicle serviced at your convenience.
Use our store locator to find a school bus repair shop near you. Just enter your zip code and search radius to get started.
Find Quick, Professional School Bus Services at Gregory Poole
For fast and efficient school bus repairs, Gregory Poole Equipment Company has got you covered. At Gregory Poole, we are your one-stop shop for all of your bus needs. We focus on outstanding service, product support and partnerships with some of the industry's leading manufacturers. With strong technical expertise and a wide variety of products and services, we are North Carolina's authorized Blue Bird bus dealer.
Call us at 1-800-321-4650 to schedule services or contact us for more information.