Bus Repair and Maintenance Services
At Gregory Poole Equipment Company, we have the high-quality maintenance and repair facilities you need to get your buses operating at their full potential. You can schedule our bus maintenance and repair services for anything from minor or major restorations to preventative bus maintenance at our top-of-the-line bus service center.
You can count on Gregory Poole for the best bus repair services in the industry. Our highly skilled, factory-trained service technicians are equipped to work in the field, in your shop or at one of our bus repair shops near you.
Bus Repair Services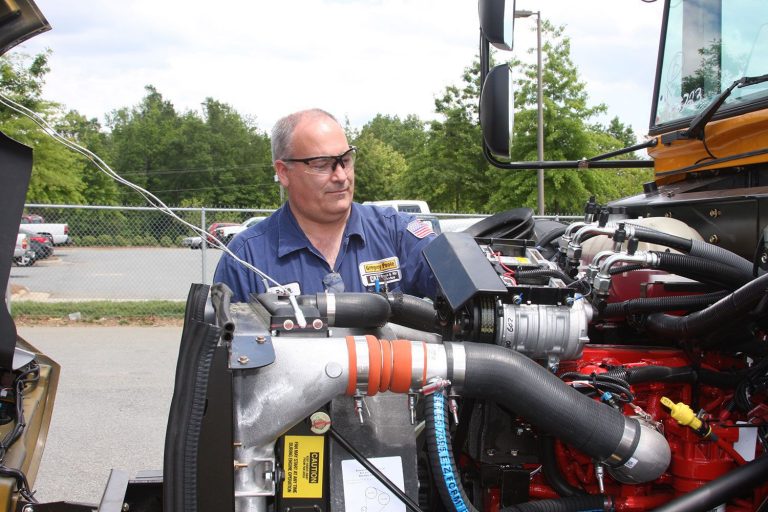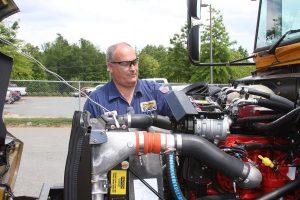 Whether you're looking for bus repair services or simple maintenance solutions, Gregory Poole has the equipment, parts and expertise to get the job done.
We don't want your company to see delays in productivity due to broken bus parts, damages or system failures — that's why we strive to provide quick and efficient bus repair services to get your vehicles up and running again in no time. Even if you don't require full-fledged repairs, you can schedule preventative bus maintenance services to ensure that your buses are in great condition and minimize the risk of future difficulties.
Our comprehensive bus service centers provide a wide range of repair and maintenance services throughout North Carolina, including those on the following systems:
Engine
Transmission
Differential
Chassis
Electrical
Air conditioning
No matter the need, Gregory Poole has the bus repair and preventative maintenance services you need to keep your bus operating at full capacity.
Contact Us About Our Customer Service Agreements
Bus Repair Shops in Your Area
We make maintenance and repairs as convenient as possible with our wide variety of bus repair services. Our service shops in North Carolina offer parts, repairs, new and used sales, and more, ensuring you can get the assistance you need.
We have bus service centers operating in multiple North Carolina locations, including Mebane, Garner and Fayetteville. View our locations page to find bus maintenance services near you.
Schedule Bus Maintenance Services at Gregory Poole Equipment Company
With over 65 years of dedicated service, Gregory Poole is an industry leader in providing unparalleled product support, technical expertise and superior customer service. We offer our customers only the best buses in the North Carolina area with safe and reliable Blue Bird and Micro Bird bus models. With excellent product support, strong technical expertise and high-quality bus parts, Gregory Poole has it all.
Contact us to schedule your bus maintenance or repair services today.