Marine Power Remote Monitoring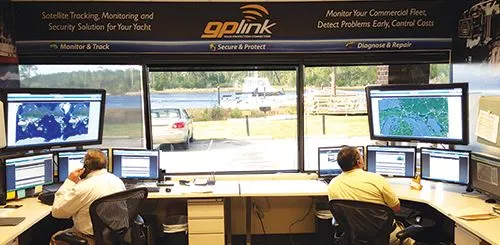 Out on the open water, staying safe and responding effectively in the event of an emergency is critical. Smart boat owners know the importance of remote monitoring — whether it's to convey your location to rescue crews or alert technicians when a fault code is triggered. You may never need to use these services, but knowing they're there provides important peace of mind and allows you to focus on enjoying your time on the water.
Browse Our New Marine Power Systems
Gregory Poole is an exclusive dealer of Cat® marine engines and a partner of all boat owners on the North Carolina coast. To serve our clients better, we offer a wide range of maintenance and repair capabilities that keep your boats running safely and efficiently. Since 2012, we have been the leading source for gplink, the Caterpillar premier remote monitoring solution for marine vessels.
What Is gplink?
All Cat marine engine owners can benefit from gplink, a powerful remote monitoring solution for both pleasure and commercial craft. gplink uses GPS and dual-band cellular technology to transmit important data about vessel location, engine parameters, alarm codes and more. With gplink, you can:
Protect your watercraft — Set boundary alarms to alert you via email or text when someone moves your boat without authorization.
Prevent problems — Monitor for bilge levels alerts, smoke alarms, low battery warnings and power interruptions.
Expedite repairs — The system sends engine diagnostic codes and data directly to the gplink command center. The gplink concierge is then able to pass that data directly to the Gregory Poole service team to aid in repairs or respond to an emergency.
Enjoy 24-hour support — It transmits data to a call center manned around the clock by a team of expert marine technicians.
With these enhanced capabilities, gplink is an important addition to any recreational or commercial watercraft. The technology is available on all new Cat marine engines, and we can retrofit it onto certain older models, as well.
Contact Gregory Poole to Learn More
Remote monitoring of marine engines just makes sense. From helping you out in an emergency to saving you money on repairs and maintenance, gplink is a vital ally for any marine vessel owner. To learn more, request a quote or arrange a demonstration, contact one of the three Gregory Poole marine locations, conveniently located on North Carolina's coast.