Our 30-minute Guarantee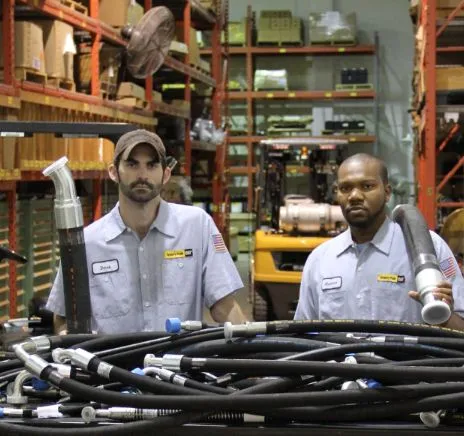 At Gregory Poole, going the extra mile for our clients isn't just an idle promise. We stand behind our words and commitments.
We offer an exclusive 30-minute hydraulic hose assembly guarantee out of our Raleigh, North Carolina service location. Visit us, and we'll take care of any in-stock hose replacement or repair while you wait — no appointment necessary.
As the only authorized Cat® dealer serving our region, we have one of the largest OEM parts selections in the country. We have an extensive stock of low-, medium- and high-pressure hoses and fittings ready to install on your heavy equipment.
The Hydraulic Repair Experts
Since 1951, Gregory Poole has been providing repair and maintenance service that meets the exceptionally high standards of our customers. Choose us for:
Reliable service — We get the job done right the first time by following official Cat guidelines for replacement.
High-quality results — We thoroughly test every repair to ensure it delivers the performance and reliability you require of it.
The best parts — We use only genuine Cat parts made from quality materials that deliver higher temperature tolerances and lower lining swell than aftermarket alternatives.
Contamination-free repairs — We perform all repairs in a clean environment to eliminate the risk of contamination.
We are your one-stop hydraulic hose repair shop for all Cat equipment and machines by allied brands. We offer pickup and delivery to anywhere in eastern North Carolina, as well as dedicated hose repair service out of our Raleigh location. Call or stop by today to request a free quote.