Fuel Quality Solutions

Providing Preventative Maintenance and Regulatory Compliance for Emergency Power Fuel Storage Systems

There's nothing worse than having a mechanically sound piece of equipment shut down due to a clogged fuel filter or some other fuel-related cause. One of the main causes of equipment operational malfunction resides in the fuel system.Having access to a reliable source of fuel quality maintenance and analysis is an operational advantage that can save your business valuable resources.

Services Offered for ALL Diesel Fuel Tanks: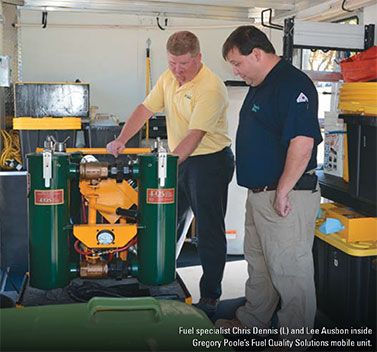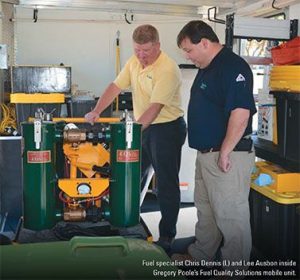 Fuel Sampling

Fuel conditioning

Fuel quality audits
Five-stage filtration fuel and tank cleaning services
In-tank camera inspections
Fuel stabilizer and biocide to prevent and neutralize unwanted growth or activity
Petroleum contact water removal
Annual diesel fuel certification
Annual fuel tank monitoring systems' inspection and certification
Crankcase ventilation solutions box
Fuel solutions contract packages for multi-site, multi-year contracts
Follow-up repairs and services from inspections
Comprehensive Fuel Quality Services

Gregory Poole is a local power systems provider offering a full range of products and solutions. We're the authorized Cat® dealer for eastern North Carolina. With nearly 65 years of experience partnering with a wide range of local industries, Gregory Poole delivers full-service capabilities backed by customer service and product knowledge you can depend on.

We're a one-stop shop for everything from fuel sampling and quality audits to annual diesel fuel certification and fuel tank monitoring. We offer regularly scheduled maintenance as well as emergency service and repairs to help reduce downtime and costly equipment damage. All of our service technicians are trained to use the latest tools and technology to keep your fuel storage systems in prime condition.
Basic fuel system checklist items
Get in Touch for a Free Assessment Today
An unexpected equipment failure can have a devastating effect on your ability to be productive. Gregory Poole provides peace of mind by delivering fuel quality solutions designed to protect your system, improve efficiency and lower your costs of owning and operating equipment.
Don't let your fuel leave you in the dark — call us today to schedule a "check up" for your fuel system