Scrap and Demolition
Caterpillar® offers machines and work tool solutions that provide powerful performance and rugged reliability for a wide variety of industrial applications. From demolition and site preparation to scrap recycling and material handling, we have developed machine and work tool solutions for every stage of the process – machines and work tools designed with the versatility to meet the most difficult site demands and the durability to keep your work crews productive all day every day. From machines to tools, service to support, you'll get only the most powerful and productive work site solutions from Caterpillar and Gregory Poole.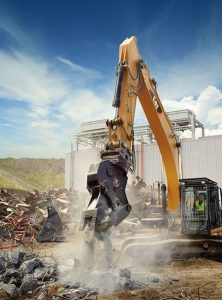 Demolishing existing structures and preparing sites for future projects is tough work. It requires the right equipment to get the job done efficiently and profitably – equipment like our Cat® 330C L UHD and 345B L Series II Ultra-high Demolition Excavators. They are purpose built to maximize stability and performance – and have long reaches: 68′ 11″ (21 m) high on the 330C L UHD, and 83′ 8″ (25.5 m) on the 345B L Series II.
Equipment for Scrap and Demolition
Cat offers solutions for stripping, cutting, crushing and pulverizing. From razing and scrap separation to loading and site finishing, Caterpillar offers the right machines and work tools for every step of the process. They're all designed and built with the quality Caterpillar is known for – so you get the most from your equipment investment.
We can help you assemble a team of reliable, versatile, and economical demolition machines and work tools that deliver powerful performance and rugged reliability for a variety of demolition applications.
Cat Equipment for the Scrap and Demolition Industry