Yardology Corp. began in 2014 when President, Eric Smith decided to leave his job in the banking industry and start his own landscaping business. He put together a team with more than 20 years of experience in the industry and was able to establish a good name for the business. Yardology currently has 25 employees, and has had no turnover, as well as a waiting list of people who want to work under Eric's family type culture. The company services Raleigh, Durham, Chapel Hill, Johnston County, Clinton, Fayetteville, Sanford, and Charlotte areas.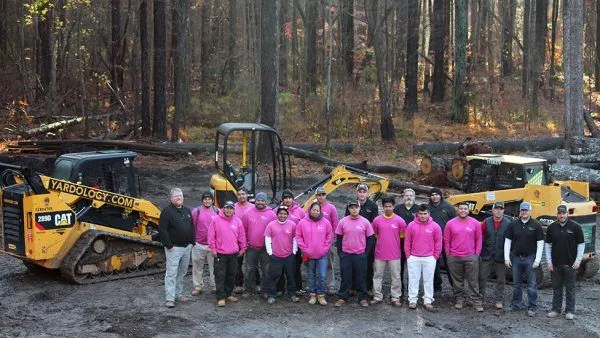 Eric started out in the beginning of Yardology's founding with only one Cat® machine, but quickly realized he would be a part of Caterpillar® for life. Since starting the company and buying their first Cat machine, Yardology has bought two more machines from Gregory Poole and have stated that they will remain loyal. The customer service that Gregory Poole has provided to Eric and his company has made them a customer for life. Eric stated that no matter what goes wrong, his Gregory Poole contacts are there to fix it. He is also very happy when he needs field service, because they come right out to the site and "do not miss a beat."
Yardology works on several projects at a time, and are proud of their ability to do it all in house. The company works with builders around the area on landscaping projects such as land development, monumentations, buffers and amenities for communities. Yardology is primarily hardscape driven, which means they end up doing a lot of stonework for those builders they do business with. Some of the current community projects Yardology is working on in the Triangle area include several $.5 Million jobs like Blaney South, Arcadia West, The Meadows, Blunt Street, Deer Creek and Glencroft.
Gregory Poole has always had a family feel when it comes to their employees, customers, and everyone involved with the company. We admire how Yardology works off that same structure as they have developed a family culture of their own. Employees of Yardology Corp. all mean something to owner Eric, as well as each other. The company does not have to rely on numbers because everyone wants to be a part of the work and getting things done. With the smaller employee base, the company is also able to dodge any employee avoidance because they are so close and all want to be there working together.
The company cares greatly about their employees, but also about their customers. Eric will always do everything he can to make sure that the answer to the customer is always yes when they need something done. This culture and customer service is what really defines the company in the landscape industry; it is demonstrated through reviews and word of mouth that Yardology has a great presence within the community.