Barnhill Contracting Company has been working with Gregory Poole since we began in 1951. Similar to the Gregory Poole story, Barnhill Contracting Company has also been in the family since they were established in 1949. The company was built on the belief that there is power in people, and they still run the business with the same belief today. Throughout the years, Barnhill Contracting Company has done a lot for North Carolina and they have grown into one of the Southeast's leading contractors.
One of Barnhill's current projects is the Greenville Southwest Bypass. They were awarded the $159 million contract to start on the 12.4 mile highway between Memorial Drive (NC 11) and the existing US 264 interchange to help improve traffic flow and regional travel. The project uses the design build method which means the design, construction, and other parts of the project are all under one contract and Barnhill Contracting Company works directly with the engineer.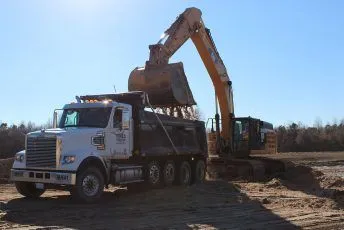 Barnhill Contracting Company has filled the jobsite with a large line of Cat® machines. For this project, they added some new machines to their line, including D6T tractors, CS54B soil compactors, 349F excavators, 930M wheel loaders, and more.
In order to level the ground at the jobsite up to the correct heights, Barnhill Contracting Company has set up several pits to load up dump trucks to take material to the locations of the actual bypass. Daily, there are about 75-100 dump trucks in operation, and the excavators loading these trucks are constantly in motion. With the newest 349F machine, the operating efficiency has kept the whole process running quickly and smoothly.
The company wants to make this process even more efficient and is installing the SITECH X2350 into their excavators. The X2350 quickly and accurately weighs the bucket's load and displays that payload information right onto a monitor in the cab. This will be a major help with productivity on the large jobsite.
Construction started in September and the project is expected to finish in 2019.