Here at Gregory Poole, the experience you have while working with us drives us every day. In the last few months, we have been working hard to update our Raleigh Hydraulic Shop to improve our operations and create the best experience for you, our customers. With daily shuttle delivery between our five branches, we are always able to get you the service you need. Check out these before and after pictures of our new Hydraulic Shop, or come check it out for yourself at 701 Blue Ridge Road, Raleigh, NC 27606.
Contact us today to learn more:
919-836-4553 – Pump & Motor Shop
919-890-4354 – Cylinder Shop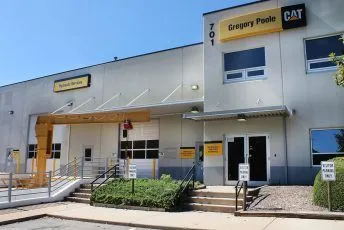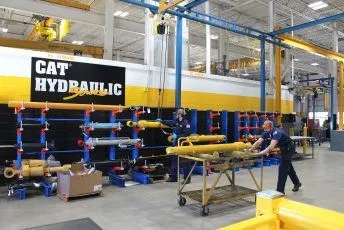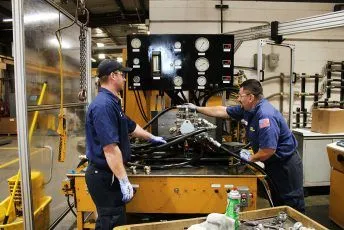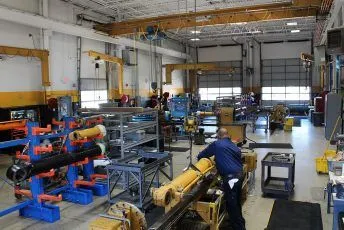 Hydraulic Shop Services  Hydraulic Hose Repair and Replacement
What We Do
With over 70 years of experience in the heavy equipment industry, we're ready to assist you with any of your hydraulic repair or maintenance needs. No matter the issue, our skilled and knowledgeable technicians will determine the most cost-effective solution to get your equipment back on the job site with optimal performance.
Visiting our hydraulic shop means experiencing all the following services:
Full Service Hydraulic Repairs on all Cat® products
Pumps, Cylinders and motor repairs on non-Cat brands
Free Pickup and Delivery Service Across Eastern North Carolina
Free Disassembly and Quote
6 Month Warranty on All Repairs
Hydraulic Hose Capabilities
We carry a comprehensive assortment of hoses and couplings to assist customers with our hose repair and replacement services. When you come to us, you can expect:
While You Wait Service for Cat and Non-Cat Brands
Use of Superior Cat Hose Products
Certified Crimp and Certified Clean Assembled by Cat Dealer Technicians
Pumps and Motors
Our factory-trained technicians deliver top-of-the-line hydraulic pump and motor services ranging from repairs to parts to rebuilds:
Complete Pump and Motor Repairs
Rebuilding
Power Lapping
Piece Parts
Exchange Program
Factory Trained Technicians
Cat, Sauer Danfoss, Rexroth
All Components Bench Tested to Factory Standards
150 HP bench
500 HP bench
Rods and Cylinders
If you're looking for hydraulic cylinder repair near Raleigh, North Carolina, you've come to the right place. Gregory Poole offers all of the following services to get your rods and cylinders back to where they need to be:
Complete Cylinder Reseal
Honing
Fabricating Barrels
Fabricate Cylinder Rods
Bucket and other pins
Rechroming
Repair Damaged Rod & Barrel Eyes
Weld and bore in most components
Telescopic Cylinders
Two Shifts to Meet Your Needs
All Cylinders Pressure Tested
Different Sizes of Rod Stock Kept in Stock
Benefits of Hydraulic Shop Services
When you come to our hydraulic shop, you'll experience all the benefits of hydraulic services for your fleet, including:
Identifying problems before they worsen
Minimizing repair costs
Avoiding downtime
Preventing breakdowns
Accessing high-quality parts
Gaining peace of mind
Contact Us Today to Learn More
For reliable and efficient hydraulic cylinder repair in Raleigh, North Carolina, choose Gregory Poole. Contact us to learn more about our hydraulic shop services today, or call the numbers below!
919-836-4553 – Pump & Motor Shop
919-890-4354 – Cylinder Shop