Buying Quality Used Logging Equipment
North Carolina has a thriving and competitive logging industry. As such, Cat® logging equipment and other forestry machines are in high demand. Logging equipment for sale in NC is expensive, and buying new machines puts pressure on a company's finances.
At Gregory Poole we understand the financial pressures of the industry, and offer an extensive selection of low-hour used logging equipment at the most competitive prices. We also carry slightly older, well-maintained logging machines that provide an exceptional value when compared to purchasing new. Our highly trained representatives will assist in identifying solutions that help your business boost productivity and control your operating expenses.
Advantages of Used Logging Equipment
Logging equipment is tough and durable, and a used machine may have years of problem-free operation left. In addition, when you buy used forestry equipment from Gregory Poole, you can trust our excellent customer service to provide a machine that best suits your needs. As an authorized Cat dealer with over 65 years of industry experience, no one can match our product knowledge and technical expertise.
The financial benefit of buying used logging equipment in North Carolina is obvious: used Cat logging equipment costs less than new. To make your purchase even more economical for your company, we offer a range of financial options.
Additional reasons to purchase from us include:
Extensive selection of late-model used logging machines
Exceptional support before, during and after the sale
13 convenient locations across eastern North Carolina
Competitive prices and free, no-obligation quotes
Types of Used Logging Equipment for Sale in NC
Gregory Poole maintains an ever-changing inventory of used logging equipment for sale in NC, including Cat logging equipment and cost-effective solutions from other Allied brands. You'll find late-model used logging machines in like-new condition as well as low-hour logging equipment that still has what it takes to get the job done right. All of the machines we have in stock have been tested to meet quality standards and are capable of tackling your toughest jobs.
Whether you need a versatile Cat wheel feller buncher for final harvest applications, a fuel-efficient forwarder capable of stacking and moving heavy loads or any other type of used logging equipment, we'll help you identify the right model within our selection. We can even track down difficult-to-find equipment through our extended Cat dealer network.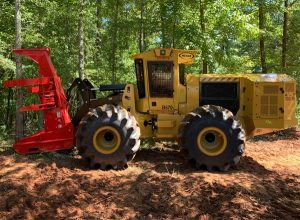 At any given time, our inventory may include:
Harvesting and felling machines
Loading and processing equipment
Millyard equipment
Recycling and processing machines
Road building equipment
Wood extraction equipment
Post-Purchase Service
We take great pride in our customer service and the efficiency of our parts staff. If you need parts for your equipment, we deliver with speed and accuracy, whether you purchased equipment from us or not. Our massive and continuously monitored parts inventory restocks in-demand parts frequently. Often, we can get you the part you need in less than 24 hours, so you're back up and running quickly.
Out-of-State Used Logging Equipment Purchases
Gregory Poole may be based in North Carolina, but this doesn't mean we restrict ourselves to one area. If you're out-of-state and interested in used logging equipment, contact our sales representatives. We ship used parts and equipment worldwide.
Act Today and Purchase the Used Logging Equipment Your Business Requires
Unlike new equipment, our inventory of used logging equipment for sale in NC changes depending on availability and demand. Check our used equipment listing often. If you see something you need on our listings, it's best to act quickly before a competitor moves in and steals the deal.
Contact our customer service today to request a quote on the used logging equipment you need.