Product LinkTM
Take fleet management to new levels with Cat® Product Link. An integrated solution delivering superior visibility into the health, location and usage of your fleet, Product Link puts the information you need to run a more productive business right at your fingertips.
Product Link functionality is a standard feature on many new Cat machines. We can retrofit older equipment, as well as equipment by allied brands, with the technology, making Product Link an ideal choice for any fleet.
How It Works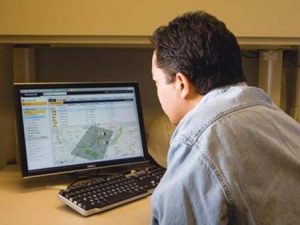 Operators and managers connect to Product Link using VisionLink®, a secure web-based application that collects and transmits equipment data in real-time using satellite and cell technology. Use it to access location, usage and condition information from any internet- or mobile-enabled device. With greater visibility comes the ability to make smarter, more informed decisions about your fleet — a key advantage in a competitive economy where maximizing productivity is essential.
You can also use Product Link to send equipment data directly to the Gregory Poole service department. This way, our technicians know in advance when your fleet needs repairs or maintenance and can work with you to coordinate service at a time that's convenient for you.
Benefits at a Glance
Key benefits of Product Link technology include:
Controlling costs: With Product Link, it's easy to proactively manage repairs and maintenance without affecting productivity. Use it to identify harsh working conditions or operator behaviors that are negatively affecting component life, and then allocate resources accordingly.
Improving operations: Product Link lets you know where your equipment is and how the operators are using it. With this information, you can identify under- and over-utilized assets. You can locate the inefficiencies that are compromising your operations.
Reducing emissions: Product Link provides unparalleled, real-time insight into idling time and fuel-consumption trends. By helping you maintain your equipment in peak condition, it also ensures your assets aren't burning excess fuel due to poor maintenance — two key advantages that help you reduce operating costs and ensure regulatory compliance.
Product Link is a Cat exclusive. For eastern North Carolina, Gregory Poole is the only place offering sales and support for the platform. Want to learn more? Contact one of our many locations today to arrange a demonstration.