Equipment Management Solutions (EMSolutions)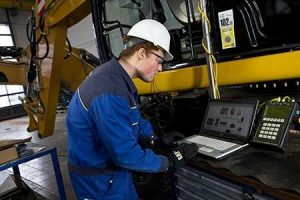 There's no question Cat® equipment leads the industry in productivity and fuel efficiency. To get the most out of your fleet, however, sophisticated management tools are essential. EMSolutions give you the tools and insights you need to work smarter, no matter what a job throws at you. EMSolutions is the equipment management component of the Cat Connect Technology framework designed to enhance the performance and utilization of your heavy construction machinery.
Let Gregory Poole put together a custom EMSolutions  package containing all the management tools you need to succeed. We are your exclusive Cat dealer in eastern North Carolina and the only place offering the company's latest and most advanced systems.
What Is Cat EMSolutions?
Caterpillar® developed EMSolutions for construction companies and other operations that rely on heavy equipment to help streamline and simplify the fleet management process. EMSolutions gives you access to advanced technologies that allow you to optimize equipment data.
You'll be able to make more informed fleet management decisions so you can control costs, improve machine performance and more effectively manage your team of equipment operators. What's more, you'll be able to extend the lifespan of your machines, resulting in the need for less frequent equipment replacement.
Cat EMSolutions consists of three progressive levels:
Inform: (visibility into performance and risk) Generates automated monthly reports providing valuable insight into your equipment in areas such as fuel consumption, idle time, run time and operator-induced faults.
Advise: (Analysis and recommendations) Provides access to a comprehensive equipment monitoring program that notifies you when something requires attention and offers recommendations for proactive preventive maintenance steps.
Partner: (Support and Risk/Gain Sharing) This full-service, proactive Cat equipment management solution will take care of all your maintenance and repair needs for you, removing this major burden from your shoulders.
Key Benefits
EMSolutions are flexible and customizable to help you meet your business goals. Our services and systems can:
Control costs: EMSolutions give your managers and operators important insights into the way machines and other assets are being run. Remote monitoring solutions let you keep track of idling times and curb excess fuel use. Service alerts help avoid unexpected downtime through preventative maintenance. Find the inefficiencies that are costing you money.
Manage people: Keep your team focused on the task at hand by outsourcing your maintenance to Gregory Poole. As part of a complete EMSolutions platform, we give your staff the expert assistance they need to stay productive.
Improve operations: The more visibility you have into how and where your team is deploying assets, the easier it is to refine your processes and streamline workflows. EMSolutions use sophisticated tracking and reporting functions. They help you identify opportunities that can save you money and get more work done without an investment in additional staff or equipment.
Reduce risks: Keeping your team and assets safe is an essential priority in any job. EMSolutions give you tools to manage risks more effectively, helping prevent workplace accidents, equipment theft and other avoidable incidents.
Tiered Equipment Mangement Solutions for Any Fleet
EMSolutions are customizable, so you only have to pay for the services you need. This can involve equipping you with the fleet monitoring and management tools you need to run your organization more effectively or outsourcing the maintenance of your fleet altogether.
Different businesses have different needs and internal capabilities. Gregory Poole is a valued partner for fleets of any size, in any industry. Contact a team member today to learn more about EMSolutions.