Pittsboro, North Carolina
1456 US-64 BUS, Pittsboro, NC, USA

Hours of Operation: M - F 8am - 5pm

Industries: Forestry Equipment
When it comes down to your toughest jobs out in the field, you need precision-built machines that surpass your expectations on every level. Caterpillar is a name you can trust when it comes to forestry equipment for sale in Pittsboro, NC. Gregory Poole Equipment Company delivers new, used and leasing options along with product support after your purchase.
Located on 1456 US-64 BUS, we are next to East 11th Street near the Sonic Drive-In. As your local source for forestry equipment sales in Pittsboro, Gregory Poole is ready to serve your fleet.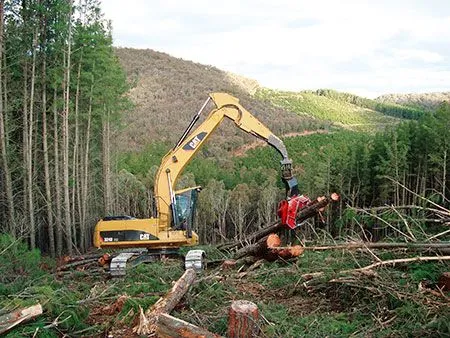 Cat® Forestry Equipment for Sale in Pittsboro, NC
Cat® logging equipment in Pittsboro, NC, provides buying as well as leasing advantages for industries across the board. Whether you're looking to invest in a feller buncher, delimber or chipper, we have the right solution for your operation. If you want to supply your fleet with an additional machine or create an entirely new line of machines, you can work with our us.
Gregory Poole also provides an ongoing parts service to ensure you remain productive. When you need regular maintenance checkups or essential repairs, our factory-trained technicians are able to support you with complete overhauls or small fixes. We work with manufacturers such as Cat, Quadco, CSI and Prentice that manufacture durable and reliable equipment.
If you're looking for logging equipment for sale in Pittsboro, NC, Gregory Poole even works with you to find different financing options to make your purchase economical. You can advance your fleet while maximizing your resources. We support jobs from road building and site preparation to harvesting and reforestation.
Check Out Our Cat Forestry Equipment in Pittsboro, NC
Partnering with Gregory Poole Equipment Company gives you the opportunity to purchase the forestry machines necessary to remain productive, and we offer the benefit of leaning on us for product support. We have more than 65 years of experience in the business, allowing us to understand what solutions best support your business. With a parts distribution able to deliver within 24 hours and available financing offers, we are here each step of the way.
Visit our shop for forestry equipment in Pittsboro, NC, or reach out to us online for information about our machines and services.